Photo: Beale Street Association
Saint Paddy's Day is just around the corner and Memphis has plenty of ways to celebrate.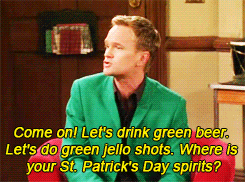 Head to Doc's Wine, Spirits, & More to enjoy tasting Jameson Irish Whiskey, Jameson Black Barrel Whiskey, Jameson Caskmates Stout Edition, and Jameson Caskmates IPA Edition.
Join the staff of Elmwood Cemetery in the Chapel for a unique recognition of St. Patrick's Day. The evening will begin with homemade Irish boiled dinner, beer, wine, and water. Next, they will offer a 45 minute seated presentation on the Irish and the Scots who rest at Elmwood and their lives. Seats must be reserved in advance. Tickets are $25 and the event is 21 and up.
Head to Brass Door for a night filled with food and drink specials after Fr. Auggie, Pastor of St. Peter's Church, blesses the kegs on the eve of St. Patrick's Day!
Join Brass Door for an all day celebration of St. Patrick's Day. The morning will begin with a breakfast, followed by Ireland vs. England competing in Rugby. Later, they will have soccer and rugby skills contests for charity, bagpipers, Irish dancers, DJs, raffles, and an official 'Blessing of the Kegs' by Fr. Auggie of St. Peter's Catholic Church. After 12 pm, there will be a $10 cover charge, and kids will not be allowed in after 6 pm. Be sure to make it for an authentic Irish party!
Join Celtic Crossing for their 13th festival in Cooper-Young. The day will be filled with live music, food and drink specials, and much more! So, be sure not to miss out.
Schedule of Events

Inside the Main Bar

8:45 a.m. – 5 p.m. Six Nations Rugby & Premier League Soccer/Burnley vs Chelsea & Leicester City vs Arsenal
5 p.m. – 2 a.m. DJ Tree Riehl and DJ Taz

Patio Music Schedule

11 a.m. Dancing Jimmy's
1:30 pm. The Reel McCoy
5 p.m. Bluff City Backsliders
8 p.m. The Candy Company

Party Tent Music Schedule

10:30 a.m. Jim & Larkin
2 p.m. Big Betsy
5 p.m. Dancing Jimmy's
7:30 p.m. Adam & Ben Calicott
9:30 p.m. Cornfed Mafia
The 45th Annual Silky O'Sullivan St. Patrick's Day Parade will be held on Memphis' historic Beale Street! Wear your green and bring the family for the city's largest parade with bands, cars, dancers, floats and more.
Join Memphis Irish Society/Cooper-Young for their annual St. Patrick's Day Parade. Featuring bands, dancers, horses, vehicles, marching units, celebrities, and much more, it's sure to be a good time for the whole family.
Enjoy green beer, drink and food specials, and live music all day long! Some of their options include Guinness on draft,  corned beef brisket and cabbage, crispy fish and chips, Irish Reubens, and more.
Celebrate Saint Patrick's Day with us. Live music starting at Noon. Great drinks and food specials. A great spot to watch the parade.
Blessing o' the kegs @ Noon with Irish Eyes of Memphis
@1p The River City Cadillacs
@3p Earl the Pearl & The People of the Blues
@5p Big Betsy!
@8p Whatever Dude
@10p The Fast Mothers
Join Tin Roof on Beale Street for an all day celebration. Live music and DJ's will be featured throughout the day to go along with food and drink deals. And don't forget, green beer will be available as well.
Party Itinerary

Tin Roof Side

11 am – 2:30 pm: Casee Allan
3 pm – St. Paddy's Day Parade Outside
4:30 pm – Rodelle
7 pm – Secret Band!
10:30 pm – Goosett Band

Green Room Side

11 am: DJ Ron
1 pm: DJ Kaos
3 pm: DJ lex
5 pm – DJ Tubbs
7 pm – DJ Stringbean
11 pm- 5am – DJ Epic
The Caual Pint will be having specials all day in celebration of St. Patrick's Day! Enjoy $1 power hour, $2.50 Green Beer, and more.
Enjoy green beer all day long, house-made corned beef and hash, and other food and drink specials from the Safe House. There will also be tournament games including corn hole and mini golf.
Green Jello's St. Patrick's Day festival is happening at the Hi-Tone. Enjoy an evening of comedy, music, food, and drinks. Tickets are $10-13.
Decorate cupcakes, cookies, and make St. Patrick's day themed crafts like magnets, ornaments, and more at the Trolley Stop Market this St. Paddy's day. There will be prizes, a family friendly film showing, and beer and pizza available for the parents! Admission is $5. Call 901-526-1361 or email trolleystopmarket@live.com to make your reservation.
Enjoy Green beer and jello shots, food specials, and a live DJ as you party the night away at Perignons Restaurant & Banquet.
Join Railgarten for green Jello-shots, Irish spirits, and DJ Li'l Leprechaun (aka Eggroll), Graham O'Winchester and Big Betsy.
Enjoy this St. Patrick's Day original interactive mystery by Memphis mystery writer Phyllis Appleby, a 3 course pasta dinner, and support Compassion Neighborhood Clinic. Tickets are $40 per person, which includes dinner and show. The event will also have a silent auction, wine and beer for purchase, and prizes.
Join Harpo's to enjoy the perfect event to let loose and hang with friends in a safe and controlled environment.  In honor of St. Patrick's Day, themed specials such as Shamrock Jell-O shot shooters, Evergreen party punch, and more will be available all night!
Local Memphis band Bean will be playing at Mid-South Crossing to add to the St. Patrick's Day festivities.
This St. Patrick's Day, crawl between Ghost River Brewing Co, Loflin Yard, Carolina Watershed, and The Dirty Crow Inn for beer and food specials, live music, and more.
Join Growlers for a night of drink specials and live music all night! Line-Up features the Walking On Landmines, Cassowaries, The Gloryholes, and Hardaway. Tickets are $7 at the door.
Support Shelby Farms by attending their green-tie/green shoe fundraiser! Dinner will be provided and the Brennan Villines Band will provide live music. Tickets are $200 .
Did we miss any events you're excited about? Let us know.
See all March events here.
Looking for more local suggestions on things to do in Memphis? Ask us @Choose901.