INDIE MEMPHIS FILM FESTIVAL SCREENING: Hometowner Music Videos
"LES FLEURS" BY TALIBAH SAFIYA
A soft visual manifestation of Talibah Safiya's cover of Minnie Riperton's Les Fleurs.
"CAN'T SEE STARS" BY ERIN RAE FT. KEVIN MORBY
A grainy reflection of Memphis & an ode to mystery train.
"D-UP (HERE'S TO DIVERSITY)" BY FREEWORLD
The current state of our cultural realities inspired Richard Cushing, leader of the Memphis-based musical ensemble, FreeWorld, to envision the re-recording of their song, "D-Up (Here's to Diversity)" in the fall of 2020. The song (with lyrics written by David Skypeck) and accompanying video (produced by Justin Jaggers), came bursting forth with new life through the amazing audio production talents of Niko Lyras, along with the instrumental & vocal contributions of over three dozen of Memphis' established entertainers, talented newcomers, and legacy artists, who all came together and donated their time and talents to create a work of art that celebrates and exemplifies the musical, cultural, emotional, intellectual, and Spiritual unity and diversity inherent in our city and the world beyond.
"CHRISTMAS AT MIDNIGHT" BY ROBBY GRANT
A Christmas dinner turns into ritual murder.
"ACID RAINBOWS" BY THE POP RITUAL
A kaleidoscopic display of cosmic evolution—a psychedelic trip in the midst of an iridescent void.
"LITTLE CRYSTAL" BY MODEL ZERO
Music video for Model Zero.
"HANGOVER FUNK" BY NEW MUSIC COLORWAYS
I made this video in the cold of a deep Wisconsin winter to promote the single From my record it is what it isn't.
"E.B.S." BY THE WAILING BANSHEES
Local folk punk heroes The Wailing Banshees dance with the dead in this video by Jimi Myers, filmed at the Hi Tone
"HOW TO LOVE – LIVE IN MS" BY BUFFALO NICHOLS
Buffalo Nichols performs "How To Love" live in Taylor, MS.
Love given doesn't always mean love returned. We are faced with two options: to continue our efforts, or burn them all to the ground.
"DON'T COME HOME" BY EMILY ROOKER
5 women deal with their absentee partner.
"IT'S JUST WHAT WE TALKED ABOUT" BY DAYKISSER
Elegant choreography in an ethereal setting.
"HOW DOES THAT MAKE YOU FEEL?" BY THE STUPID REASONS
The kind of song you write when you think your therapist is hot.
Music video for Louise Page.
"IMAGINE THAT" BY TALIBAH SAFIYA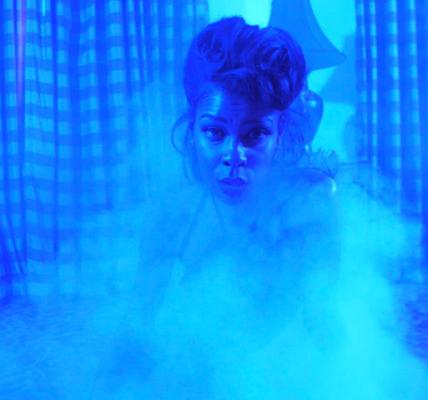 This story of retribution tells the tale of the leader of a coven posing as a Madam of a brothel. Mr and Mrs Crump have been aggressively attempting to purchase her space or just push her out. She has noticed the way that they have started to purchase many of the businesses in her neighborhood and she's not pleased. So she and her coven decide to take matters in their own hands.
"LADIES NIGHT" BY DAZ RINKO
The "Ladies Night" music video is the second in a series of videos or episodes, rather, that Daz is releasing alongside his "Sweet Jeezy" EP. In this episode, we fast forward a month after Daz's car is stolen to he and his friend seeing one of the girls that drove off in the SUV at a late night diner. They decide to take matters into their own hands.